Healthcare CRM
designed for outcome-based care management
Customizable platform that enables scalable patient care through automation
Real results from organizations using our platform
Improve outcomes
reported not using drugs or alcohol since their last coaching session
Reach more people
census growth, or new member growth, in one month
Population health management
Reduce team burnout
of users agree Welkin improves the quality of work they do
Lower costs
of cases were resolved without the need for surgery
Welkin by definition
Healthcare Automation Platform

Healthcare CRM

EHR "Light"

Headless EHR

Care Management Platform

Patient Relationship Management

Care Coordination Platform

Patient Engagement Platform
The patient management workflow
Curious what a day in the life of a clinician looks like in Welkin?
See how we support progressing your patient through their journey.
Home
See your day at a glance. Home shows your schedule, tasks, unread communications and patient escalations. This allows you to proactively plan your day and gives you the ability to swiftly react to those who need attention.
Calendar
The calendar view allows you to schedule patient visits, encounters, or non-patient events, like team training. Multi-user views show team availability and ensure shift coverage. The calendar API allows you to integrate your own external calendars as well.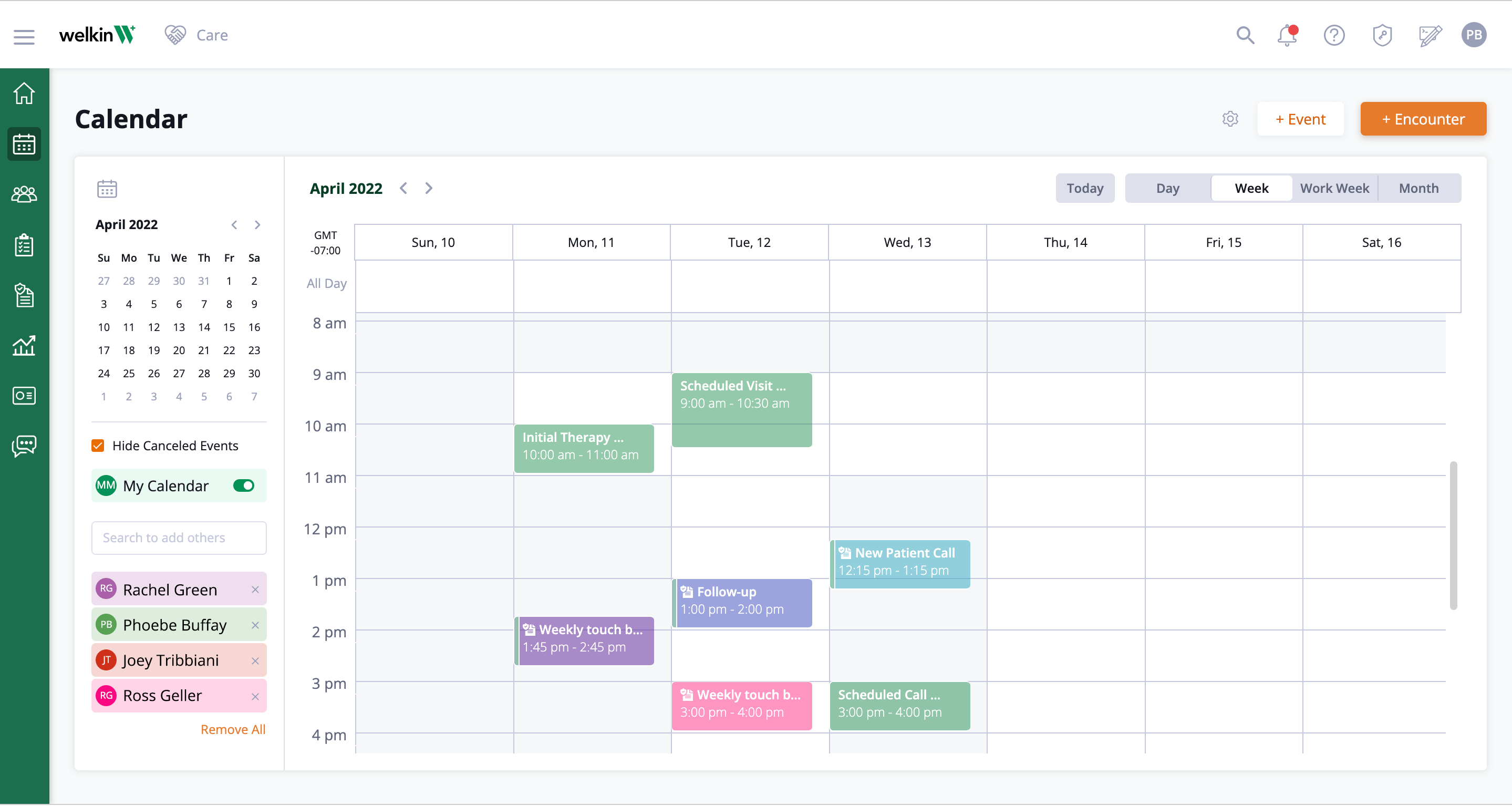 Patients
Patients view allows you to sort and filter patients. Each patient profile contains provider notes — including communications, tasks, medical history, program summary, vitals, care plans, graphs, assessments, encounters, and documents. Customized patient layouts make data relevant and accessible to each team role.
Assessments
Gather vital Patient Generated Health Data by using assessments, meaning forms. Create and send any kind of questionnaire to patients to collect data, including clinical assessments, monthly progress checks, questionnaires, or patient feedback forms. Automate these to patients on a certain cadence, build automations based on conditionality, or map questions to trend lines to create data visualizations based on answers.
Encounters
Schedule in-person, call, or video Encounters as a timed recurring event or manually. Prepare for patient encounters by creating guidance notes and itineraries. Filter Encounters by status and by team members holding them.
Document center
Streamlining the intake process is critical. Automate intake and consent forms ahead of a patient's visit or integrate Docusign for seamless signing. Upload any type of document to a patient profile for record keeping including assessments, consent forms, licenses, medical records, or anything else.
Tasks
Welkin enables smart task management and hand-offs, by filling in the gaps and prompting care team members with tasks when they're needed and for what. Coordinating care is simplified when tasks are organized and can be shared or passed to other team members.
Insights
Data visualization informs your organization of program analytics across patient populations. Surface actionable insights and identify trends around patient careflows, resource allocation, assessment trends, and more. Review relevant datasets in Welkin or export data for external consumption and analysis.
Communication
Direct and personal communication promotes plan adherence, retention — and ultimately, better outcomes. Welkin's multi-channel communication toolkit includes synchronous, HIPAA-compliant video conferencing, or asynchronous secure email, web-based or patient-facing chat, SMS, and MMS.
Automations
Automating portions of clinical care protocols helps to generate operational efficiencies, increase patient engagement, and scale growth. Welkin allows you to build a plethora of different automations. For example, when an escalation or intervention is realized, for assessments or patient intake forms, reminders or check-ins, or to flag specific patient reported answers.
Notifications
Define events that warrant an external notification to specific team members. Send email, chat or SMS notifications for specific occurrences within the platform when something needs to be addressed right away.
Some of the conditions supported by Welkin Health:
Care management journey
Identification
Qualify and enroll your patient in a program
Assessment
Define problems, risk and goals
Enrollment
Enroll patient in best suited program(s)
Care Delivery
Nurture patient through care plan
We know it takes a village
Welkin is designed to address care coordination. Assign the right team member to address patient needs at every step of the journey. We provide your team members with seamless transitions and a curated experience for every patient he or she serves.
The Welkin platform is the single source for all of the information for our members and how our coaches interact with that information. To be able to go into a member record, see the information in a timeline fashion and to act and react quickly really makes any member on our team able to engage more effectively.